Sale Extended!

Note: Orders placed around Christmas time will be delayed a few days.
Pay for miscellaneous web services such as web hosting or web design with no fixed price. Enter the price you were quoted in the Price box and any comments, instructions or invoice number in the information box above.
Safe Secure Ordering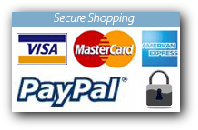 Rock Return Policy
Returns on Rock Speakers are accepted for warranty repairs only.
---
Music In A Rock
---
StereoStone Inc. manufacturers high quality, outdoor rock and planter speakers. Used in DisneyWorld, Universal Studios, zoos, fine restaurants, hotels and theme parks around the world, these rocks look just like the real thing, and produce the sound quality you would expect from a high-end speaker. Just because you hear it, doesn't mean you have to see it. That's why our SoundStealth Series is virtually indistinguishable from a real rock! From our planter speakers to our top of the line Da Vinci Cinema Rock, you'll find what you need to fill your outdoor environment with beautiful sounds.

Listen to StereoStone Rock Speakers at Universal Studios - DisneyWorld - Harry Potter Exhibit - Major Theme Parks - Fine Hotels and Restaurants around the world.

Don't be fooled by other inferior products on the market today. Most of them are made in China. We're proud to say our products are Made In The USA to the highest standards. Standards so high we back them with a lifetime warranty. You won't be replacing these speakers every season. Don't be left without your outdoor music this summer. Power your outdoors with StereoStone rock speakers. Visit our Helpdesk if you have any questions, or call us: 541.249.7217 8am to 5pm Pacific Time.

Don't have time to browse online? Download our full color catalog.
Available in PDF format. (Adobe Acrobat required. Download for free here..)

Download catalog in PDF format - 2.7mb
---